When we first came up with the idea for our Enrichment Classes (EAGLE), we were very excited and had big ideas for all the classes we wanted to offer. Our enthusiasm was well received and we now have more students than we ever anticipated. This is a great thing! It really is.
BUT....
You knew it was coming didn't you? It's exhausting. It's a good kind of exhaustion but still. It's controlled chaos. And it IS controlled, very well. I hope that next year I do not have to feel obligated to hold a class in every block of time. Perhaps I can get to know some of the other moms a little better. I'm kinda stuck at my little table from 10am till 1:30pm. I'm even leading the 4H meeting during lunch.
We have an excellent group of kids. Everyone of them are curtious and attentive and as patient as they possibly can be.
Today we had a Valentine exchange and WOW! did the kids deliver when it came to decorating their valentine's boxes! I wish I'd taken pictures of them. They were just super.
We also had a bake sale for the 4H. I made cake balls. OMG,, they are SooOOoooOOOoo good!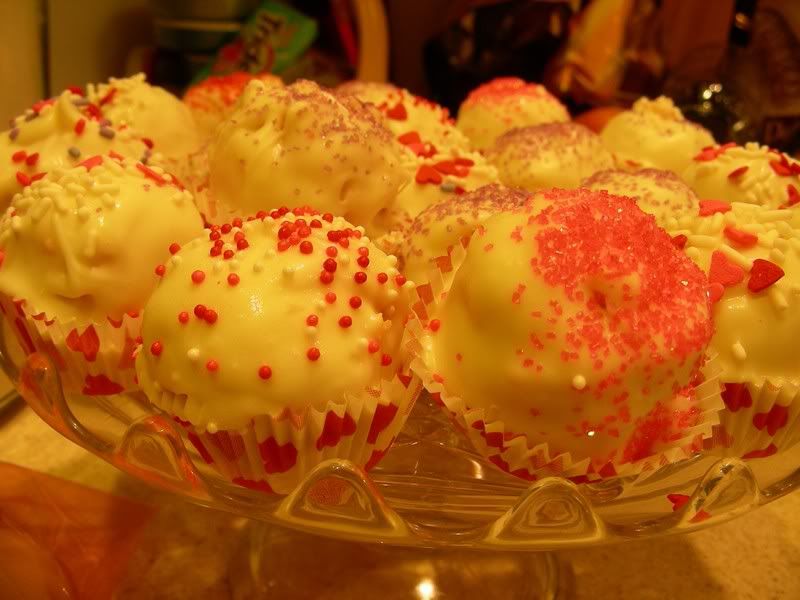 Needless to say,, there weren't many left. That's a good thing tho!
All of us dieters have renewed interest in our diets and will weigh in again at skating.
I just can't say enough about the group of mom's we have at EAGLE. I'm lucky to call them all my friends.
---------------------
Cake Balls should totally be adopted by one of the fast food
franchises
!
---------------------