Last night was Trick or Treat in our town. T2 went as a "nerd" (I called him the Tech Support Guy)
T1 went as a "Hippie". I joked that we had a conservative and a liberal!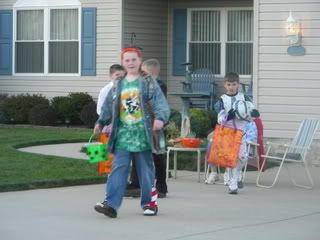 They both got just enough candy to keep them sufficiently sugared up for a few days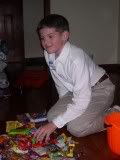 I didn't get any Mary Janes but I did score a Bit-o-honey and a Mocha Roca!
They had some friends to run around with this year. That made it a whole lot more fun. It's taking ALL of my willpower to keep from eating a Reece Cup right now!
I'll refrain! I will satisfy my Halloween craving by hitting some after holiday sales tomorrow morning!