We dropped stuff in flour the other day to see what kinds of craters it would make. It was part of finishing up our unit on Mercury.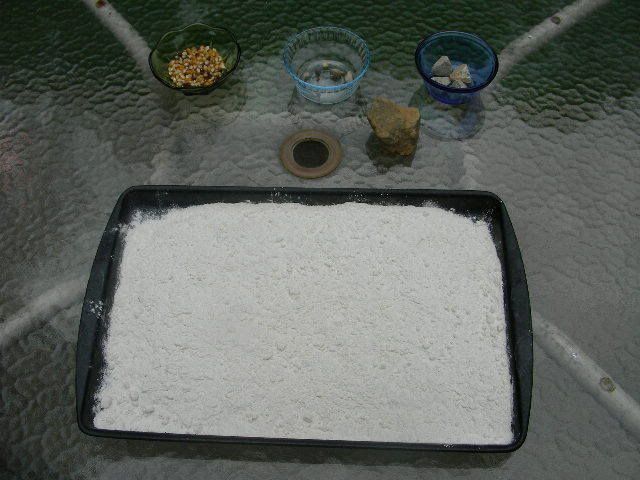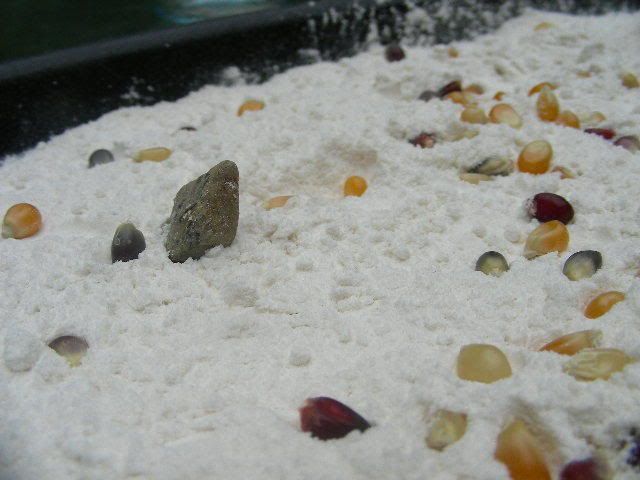 Popcorn was not a real success and I wouldn't let them throw the giant rock at my well seasoned Pampered Chef bar pan hard enough to do anything spectacular. But we did see a few cool looking craters.
We've already started (an almost finished) Venus. I see us making a volcano in the near future!
I made (for the 3rd time) some nobake cookies tonight. They're to take to skating tomorrow. These are very addictive!! I'm going to put the recipe here so I won't loose it.
Butterscotch No Bake Cookies
Ingredients:
4 ounces butter or margarine
1/2 cup milk
2 cups sugar
1 cup semisweet butterscotch chips
3 to 4 tablespoons peanut butter, optional (use the peanut butter, I emplore you)
3 cups oats, quick or old-fashioned
1 teaspoon vanilla extract
Preparation:
Place chocolate chips, peanut butter (if used), oats, and vanilla in a large mixing bowl. Combine the margarine, milk, and sugar in a saucepan; bring to a rolling boil. Boil for 1 minute. Combine the hot mixture with the oatmeal and chocolate chip mixture; stir well. Drop by spoonfuls onto waxed paper.
More No Bake Cookies
--------------------------------------
Do you know how excited my boys would be if they knew I had to write about
Ferrari parts
today? Oh. My. Goodness. They LOVE Ferraris!!
--------------------------------------