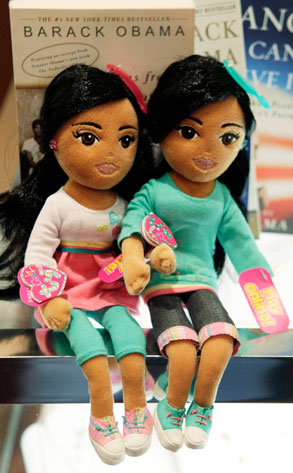 The maker of Beanie Babies can forget about getting a fist bump from the first lady.

Michelle Obama has issued a statement about Ty's newest dolls for their TyGirlz Collection, Sweet Sasha and Marvelous Malia. The plush pair are named after her and President Barack Obama's daughters, Sasha, 7, and Malia, 10.

"We believe it is inappropriate to use young, private citizens for marketing purposes," said Michelle's spokeswoman in a statement.

Guess that's one purchase the trendsetting first family won't be making...
story link
Nope. This doesn't fly with me. Barry said "Get over it, I won" Now I say "Get over it, people are going to merchandise your family". It's still a free country I hope. These dolls are very sweet and very well done unlike the incredibly tacky B.O. plates and coins. How is this different? I don't wanna hear any crap about how "it's the children, it's inappropriate because it's the children" Many a candidate has dropped from the running because he knew it would be too much for his family. The Obamas decided that no, it would NOT be too much for their family when they stuck in there. Now,, you don't get to control what people do because it makes you uncomfortable.
Get over it.