Anyone who knits has heard of the 5 Hours Baby Sweater. It does go together quickly. I don't know about 5 hours (who has time to sit and knit for 5 hours strait?) but it was quick. I've since knit the hat and booties to match but I'm not real happy with them so I'll probably knit something else. I used Moda Dea Vision and can I just say? I love that yarn. It's like the 4th time I've used it and it feels good, it looks good, it knits well and washes well. The best part? It's reasonably priced. I think it's $4.99 a skien at ACMoore. This sweater used almost exactly one skien. I like to use non-pastel colors for baby clothes. I think it's a nice change.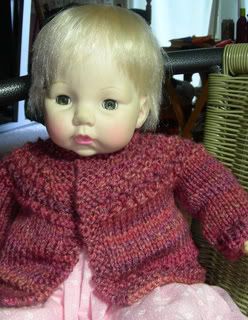 I used needles that are significantly smaller than the suggested size. I tend to knit loosely. I used a size 7 circular. Even with the smaller needle it still came out to be about a size 3-6 months.
It's a cute little sweater but every time I've knit it I have the same problem. About 10 rows in the button band sucks in and it looks like my gauge changes or something. I know that's not it,, my gauge is just fine. It doesn't block out either. Ugh,, oh well.
--------------------------------
Yesterday it was the colon cleanse,, today it's diet pills. I'll spend my money on yarn thank you very much!
-------------------------------